Welcome to the Early Childhood Learning Center PTA Website! The ECLC PTA supports teachers, staff, and families by organizing, funding, and helping in school improvement efforts and supporting educational enrichment activities. Specifically, ECLC PTA supports site-wide special events such as assemblies, harvest festival, and red-ribbon week.  They provide hospitality for parent education, back-to-school night, and open house. They contribute to fundraising efforts through Scholastic Book Fair, Jog-A-Thon and Square-one Art. They organize staff-appreciation week and purchase technology and emergency preparedness supplies.  Please show your ECLC support by joining the PTA!
Pledge or Membership
We are excited to extend an invitation for you to support & join our school's PTA.

What is the ECLC PTA? Why is my support so needed?
The PTA is here in collaboration with ECLC to help support and enhance your child's education by funding programs & services at ECLC.

How do I pledge?
When: Donations are accepted ALL Year long.
Amount: Any contribution amount is greatly appreciated and will make a big difference!
How: Print out a membership form, complete it and return to your teacher or the front office with your donation amount.  
OR, you may donate online via this link 

"All donations of any amount are greatly appreciated!"
 
Events
CLICK HERE for 2022-2023 PTA CALENDAR
Jog-A-Thon April 27th
Image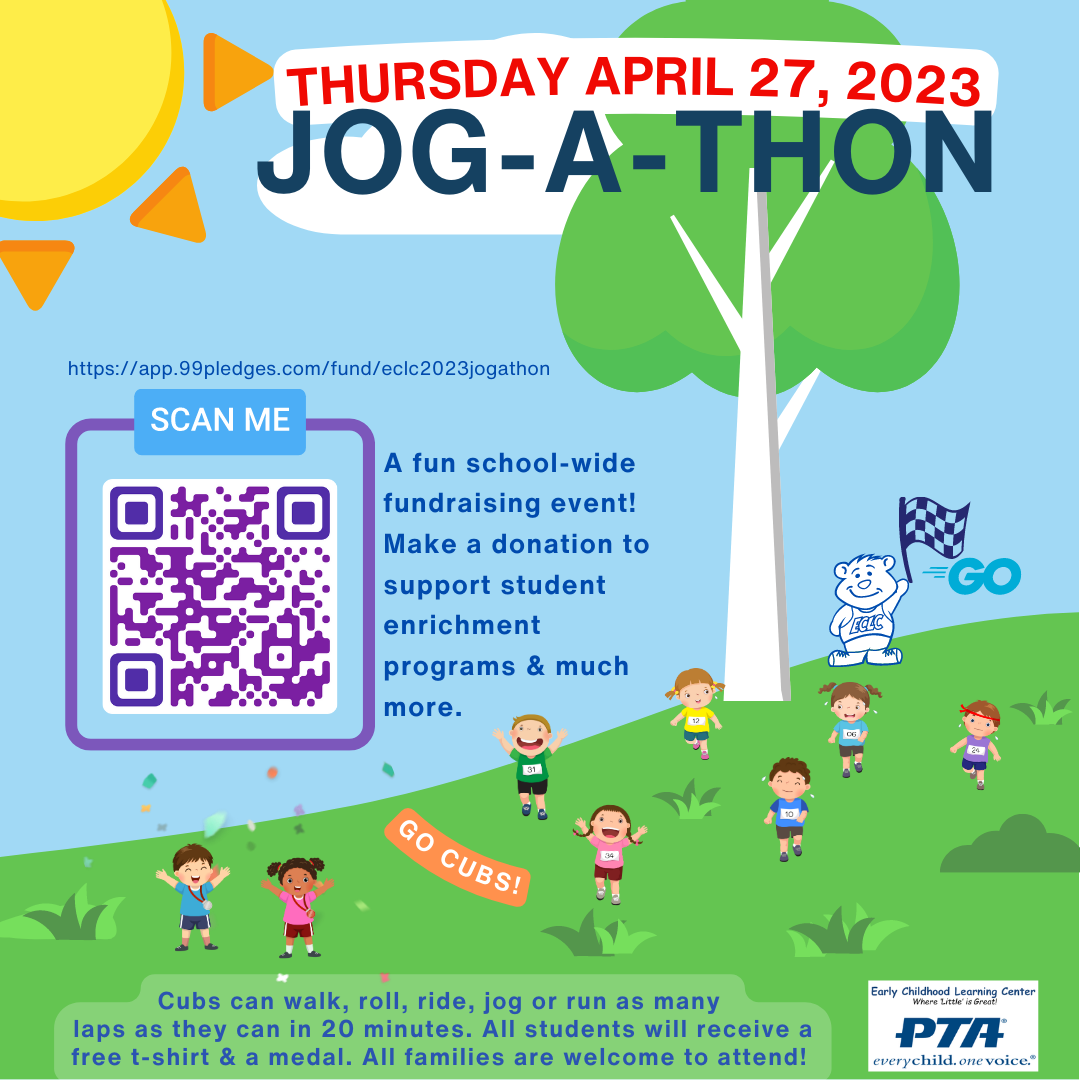 Fundraisers 
Jog-A-Thon April 27th
Our largest fundraiser is coming! Please help spread the word and share the link with friends, families, whomever. Thank you for your support to ECLC
Image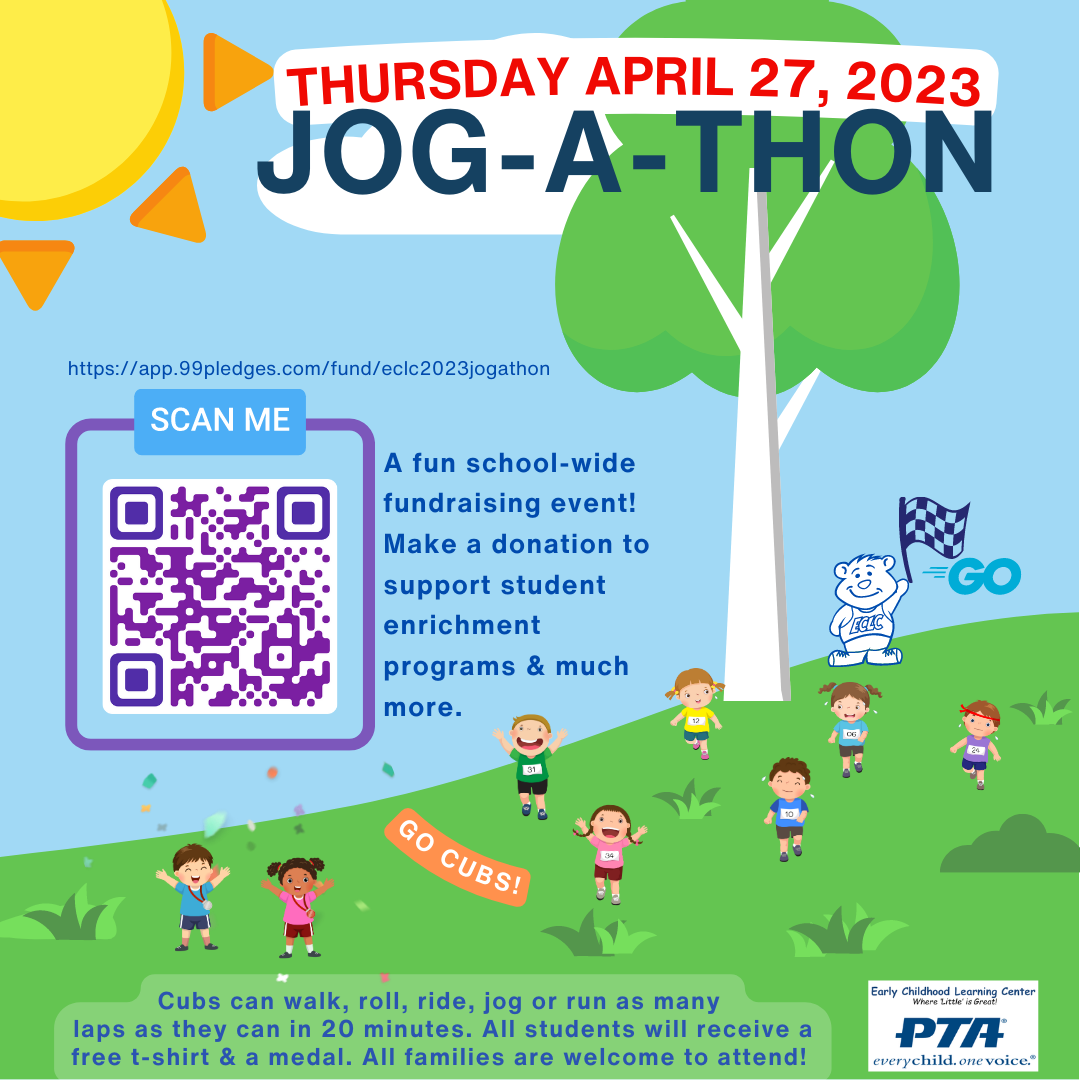 Volunteers
We are always looking for Parent Volunteers to help us wherever and whenever you can!
In order to participate as a Parent Volunteer you must complete the following:
Complete IUSD volunteer/observation application online

Register as a volunteer/observer in the front office. Please plan for 15-20 minutes to complete the registration process 

Provide government issued identification, proof immunizations against influenza, pertussis, Tuberculosis Risk Assessment and measles

Complete the volunteer/observation verification form with staff

Read the IUSD Volunteer Handbook

Negative TB test or TB Risk Assessment from your doctor within the last year 
Pertussis (DTAP/TDAP) current within last 10 years

Measles Vaccine or titer (blood test) showing antibodies

Current Flu Vaccine or a signed letter that you are opting out this year

Must agree to the COVID-19 Symptom Free Attestation

By entering the school campus and signing in to volunteer you are attesting to the following:

Being fully vaccinated or the at you have taken a COVID-19 test with negative results within the past week.
More information about the vaccine requirements can be found on this form.
After completing the online application and gathering your vaccine information, you will need to schedule a time with Tina in the front office.  You will need to bring the following information with you to meet with Tina. Tinaali@iusd.org
Copy of everything above (we can make copies for you)

Valid Identification/Driver's License

Remember to complete the volunteer application before you arrive!
More information can be found on ECLCs Volunteer tab 
Other Resources:
PTA Student Waiver and PTA Volunteer Form
IUSD Board Policy - Volunteer Assistance
IUSD Volunteer Verification Form
Sponsors
We would like to extend a HUGE THANK YOU to all of our sponsors that have supported us this school year
Contact Us
Please feel free to reach out to us anytime. We look forward to hearing from you!
EMAIL: eclcptairvine@gmail.com
You can find our current PTA board members below.
PTA Board 2021-2022
President: Vicky Li
Treasurer:  Hannah Jason
Secretary: Esther Morales
Ways & Means: Alicia Samantha Ferraez Diaz
Auditor:  Tina Ali
Historian: Mitra Ordibehesht
Teacher Rep: Sarah Atondo
Teacher Rep: Angela Oh
Teacher Rep: Melissa Chmelik, SLP
THANK YOU, PTA, for all that you do to support our school, teachers, students, and families!